News from the Studio
Veterans Education Historic Monument:
The final painting of the Air Force is complete. The official installation and unveiling is scheduled for September 15th, 2019.
Memorial weekend at the Minnesota State Veterans Cemetery: SUNDAY May 26th
The public is invited to the Memorial Day service at the Minnesota State Veterans Cemetery north of Little Falls, MN, which begins with music at 1:30 and a program at 2:00. Featured speaker will be Brigadier General David D. Hamlar Jr.
28th Annual National Juried Exhibition of Traditional Oils.
Kapsner's "We the Peop" was one of 215 painting accepted into OPA's 28th National Juried Exhibition at Illume Gallery of Fine Art in St. George, Utah. OPA received over 2,400 entries.
46th Annual Norwegian Home Guard Exchange
As part of the U.S.-Norwegian Reciprocal Troop Exchange (NOREX) which takes place at Camp Ripley in Little Falls, artist Charles Kapsner has had the distinct honor of hosting the senior officer from the Norwegian Home Guard at his studio. Kapsner created a portrait drawing of the lead officer, Navy Captain Jon Ivar Kjellin, which was presented at the farewell banquet.
The principal tasks of the Norwegian Home Guard are to safeguard territorial integrity, protect important infrastructure, support national crisis management, strengthen the military presence and provide support to civil society. The Home Guard is divided into 4 regions, 11 districts and more than 200 areas covering all of Norway.
Art Attack at the Northrup King Building November 2,3 and 4th, 2018
Be sure to attend Art Attack 2018 this weekend, which is packed with the visual artworks of over 300 visual artists and the sounds of a variety of singer/songwriters and composers. Put on your walking shoes and allow plenty of time to explore the 4 floors of the Northrup King Building, talk with the artists, listen to the music and try your hand at an interactive art activity. Note that Kapsner's work is featured all weekend at Studio Pintura and he'll be at the studio every day. Stop by and see this great space, and meet Charles in person.
Kapsner named ARC Associate Living Master
September 27, 2018: The Art Renewal Center announced Charles Kapsner as a new Associate Living Master. ARC was founded in 1999 for the advancement of skill-based training in the visual arts. ARC Affiliation falls under three separate categories which are decided by at least four members of the board of judges. ARC, having become the center for artists, collectors, and scholars, is the defining force for Contemporary Realism and excellence.
As an Associate Living Master, Kapsner has dedicated himself to becoming a realist artist with the wish to express our shared humanity through the visual arts. In addition, Kapsner has shown significant skill in all of the basic building blocks of great art: accurate drawing, compositional sensibilities, effective use of lighting, the technical ability to use modeling, glazing /scumbling, perspective, tone, hue and successful emotional expression.
For more about ARC and this distinction, click Art Renewal Center.
Salon 2018: Friday, October 12, 6 – 9 PM Great River Arts, Little Falls–Another resounding success!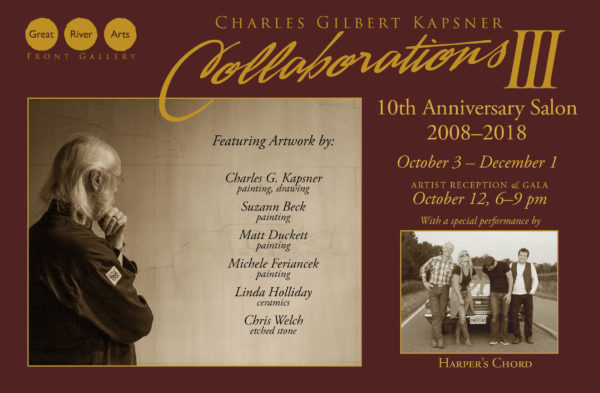 September 14th – October 13th 2018: National Oil & Acrylic Painters Society Best of America Exhibition at the Eisele Gallery in Cincinnati, OH. This exhibition features the 28th Best of America juried show, and is composed of 120 paintings selected from 900 submissions, highlighting some of the best oil and acrylic painters in North America. Opening reception on Friday, Sept. 15th.
SAVE THE DATE: Salon 2018: Opening Reception Friday, October 12th, 6:00 – 9:00 PM. Great River Arts, Little Falls, MN.
Marine Corps Painting Dedication and Unveiling at Minnesota State Veterans Cemetery: Saturday, May 26th, 2:30 PM
On Saturday, May 26th at 2:30 PM, the public dedication and unveiling of the Marine Corps painting, the fourth of five 8 X 10 ft paintings comprising the Veterans Historic Art Monument, installed at the Minnesota State Veterans Cemetery Committal Hall Little Falls , 15550 Hwy 115, Little Falls, MN. 320-616-2527 .
This painting joins three previously completed ones, Army (2011), Navy (2014) and Coast Guard (2016); each depicts the history of, and contributions by our nation's military men and women.
Regional in location, but national in scope, each painting uniquely captures the spirit of each branch of service, vividly portraying the stories, faces, and sacrifices of our Nation's servicemen and women. Veterans and active duty military serve as models, and this painting also includes a small portion of soil brought back from Mt. Suribachi, where the iconic Raising the Flag photo on Iwo Jima was taken. The artist used the small portion of soil to grind in with paint as part of the depiction of the 1945 Marine Corps flag-raising
The dedication and ceremony program includes Veterans and active duty personnel, some of whom served as models in the painting, dignitaries, Marine Corps re-enactors, and the artist.
Spring Floral Art Exhibition at the Studio Pintura Gallery, a fine art studio and gallery located in the arts district of Northeast Minneapolis, features a group of dedicated resident artists, produces gallery shows, professional artist' workshops, and a series of varied arts events. Founded by Armando Gutiérrez and Lois Rhomberg; with member artists Alex Ford, Suzanne Howe, Mark E. Marcuson, and Amber Tritabaugh. The opening was a great evening and included several terrific artists and artwork; proud to be a part! Kapsner was honored to receive first place for Stargazers Take Flight. The Exhibition is up through April 28th.
Studio Pintura Fine Art Gallery
Northrup King Building
1500 Jackson Street NE, #293
Minneapolis, 55413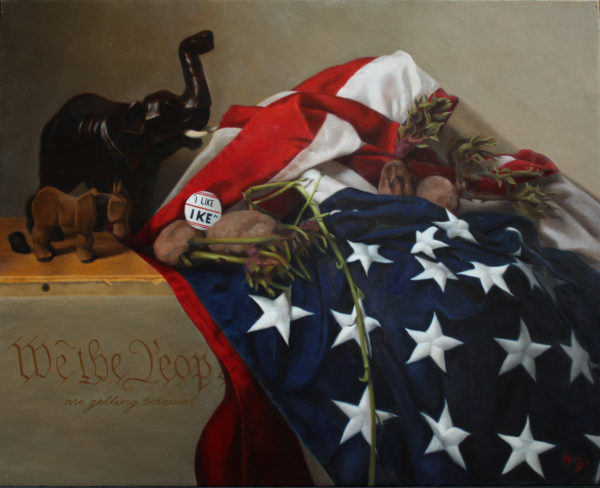 A lucky encounter with Mr. Bob Schieffer
In November, while attending the Oil Painters of America Eastern Regional Exhibition hosted by Anderson Fine Art Gallery in St. Simons Island, Georgia, I was privileged to meet and spend time conversing with Bob Schieffer, legendary CBS journalist and longtime host of Face the Nation, who was in the area promoting his new book Overload, which examines political journalism today and those who practice it. Mr. Schieffer took a great interest in discussing art, his own watercolor paintings, the media and politics.
He was really interested in knowing more about the Veterans Educational Historic Monument, and sent a generous donation to what he said is 'a worthy project'". Pictured here is Kapsner and Schieffer with Kapsner's painting, "We the Peop…are getting screwed".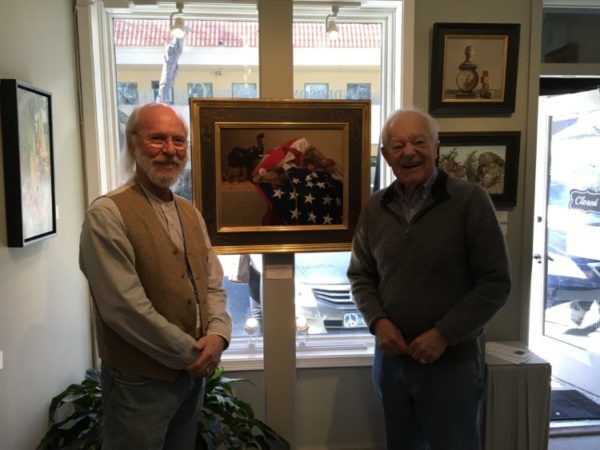 All best in the new year!
NOVEMBER 2017: National Art Opening at St. Simons Island, Georgia
My painting will be featured in the Eastern Regional Exhibition hosted by Anderson Fine Art Gallery, located in St. Simons Island, Georgia, from November 17 through December 16, 2017.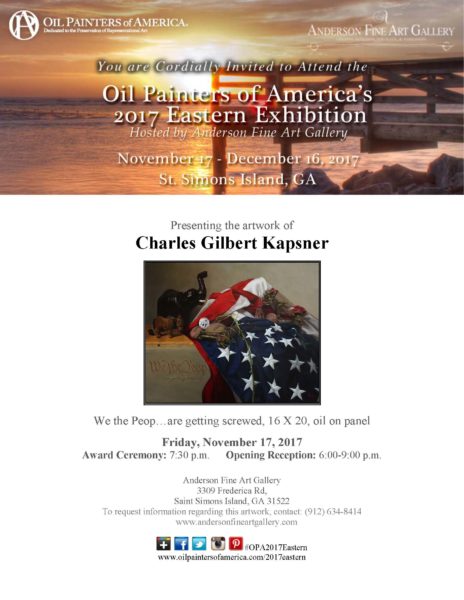 Featured at the Figurative Art Convention and Expo, Coral Gables Florida
NOVEMBER 2017: Gallery St. Germain, St Cloud & St. Cloud Art Crawl
Right on the heels of my annual Salon, my work will be featured at Gallery St. Germain in St. Cloud November 1 – December 2. The opening will be THURSDAY NOVEMBER 2nd, from 6 – 8 PM. Works for sale include drawings and paintings, including a recent mix of florals, dancers, landscapes, and an overall good mix. I'll also be at the St. Cloud Art Crawl on Friday November 3rd. Both are great opportunities, and I hope I'll see you.
Salon 2017 a resounding success!
The George Maurer Trio provided outstanding music for the event, with Artists Guild of Central Minnesota and regional artists engaged all evening! Food and wine tasting provided by Coborn's, and beer tasting by D and D Beverage added a good twist. Little Falls Mayor Greg Zylka provided a warm welcome, and a tribute to recently retired Camp Ripley Garrison Commander Colonel Scott St. Sauver made for a truly collaborative night. We'll see you next fall!
Salon 2017: Fri day, October 20, 6 – 9 PM Great River Arts, Little Falls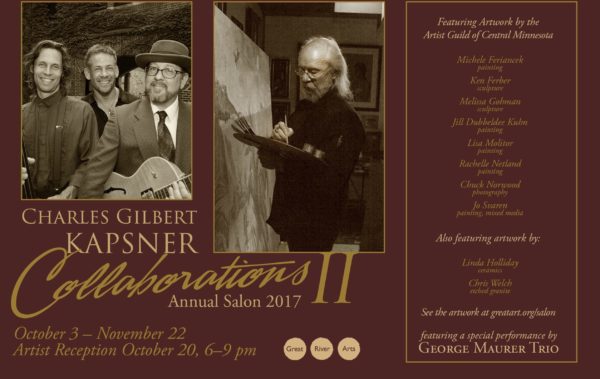 Join us for an evening of music featuring the George Maurer Group, and an outstanding lineup of artists from the Artist's Guild of Central Minnesota, with a diverse showcase of 2D and 3D art, including sculpture, clay, paintings, drawings, and photography.
Ken Ferber, pottery/sculpture; Michele Feriancek, oil painting; Melissa Gohman, sculpture, clay; Jill Dubbledee Kuhn, acrylic painting, mixed media; Lisa Molitor, water color, oil, pencil; Rachelle Netland, acrylic painting; Chuck Norwood, photography, and Jo Svaren, painting, mixed media. CLICK HERE for Salon 2017 Featured Artists
Additional artists include Linda Holliday, pottery; and Chris Welch, etched granite.
This is a great evening in downtown Little Falls and features the best of really talented artists and musicians. Join us!
Coast Guard Art Collection 2017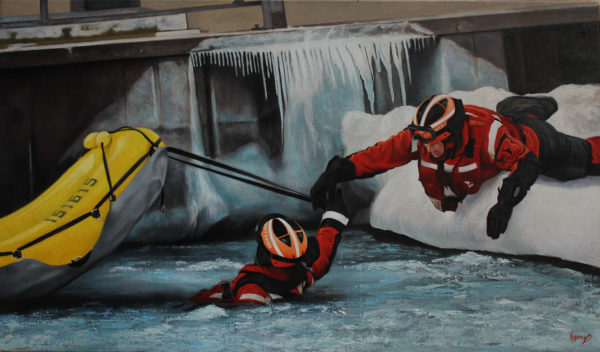 On July 20th, Kapsner was one of 29 artists nationwide and the only Minnesota artist, whose artwork titled "Friday Afternoon" was officially accepted by Admiral Charles Michel into the 2017 Coast Guard Art Collection at the Salmagundi Club in New York City. The Coast Guard Art Program (COGAP) is co-sponsored by the United States Coast Guard and the Salmagundi Club, one of the oldest art organizations in the United States.
COGAP makes use of fine art to educate diverse audiences about the Coast Guard. COGAP art provides visual testimony to the unique contribution the service makes to the nation in its multifaceted roles as a military, humanitarian and law enforcement organization. Art from the program is exhibited at museums around the country, is displayed in offices of members of Congress, cabinet secretaries, senior government officials and other military services and Coast Guard locations nationwide. It has also been displayed by the State Department in its prestigious Art in Embassies program.
Today, the collection holds nearly 2,000 works of art that bring to life the missions performed daily by the over 41,000 active-duty men and women of the service, as well as reservists and Auxiliary members. The 2017 collection is comprised of 33 works by 29 artists, making this one of the service's largest collections in recent years.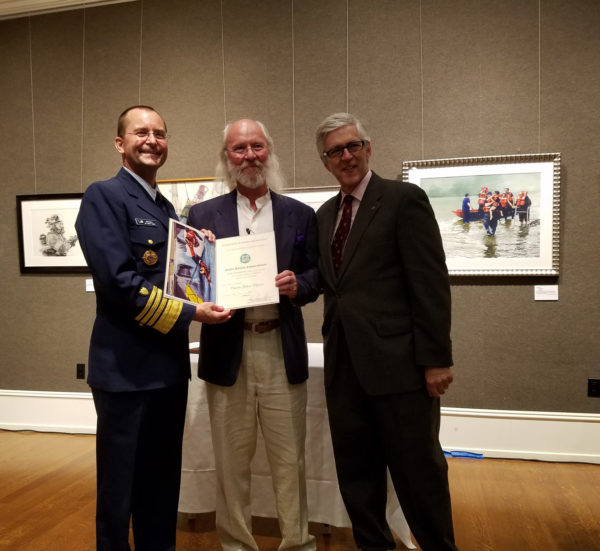 Salon 2016: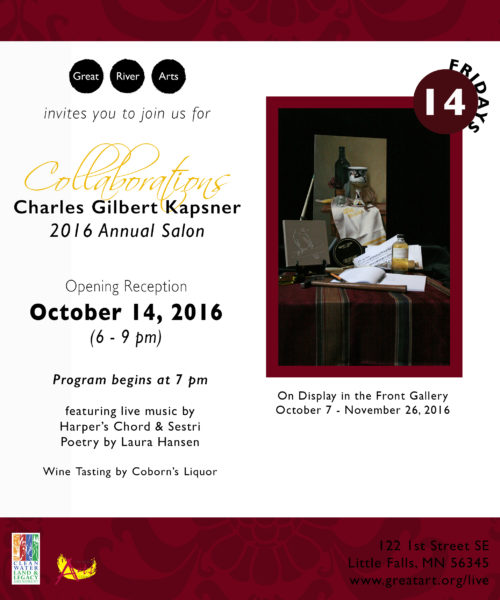 Oil Painters of America (OPA) 2016: Silver Medal Winner!
Kapsner's Escorts to Eternity painting won the Silver Medal in the Associate and Signature Member category in September. The Oil Painters of America's 2016 Salon Show is on display and hosted by Castle Gallery Fine Art until October 29th, 2016.
Coast Guard painting installed on February 6, 2016 at 2:00 PMCoast Guard painting installed on February 6, 2016 at 2:00 PM
As part of the ongoing Veterans Educational Historic Monument, the Coast Guard painting was unveiled on February 6th at the Committal Hall at the Minnesota State Veterans Cemetery. The third of five paintings, it hangs alongside the Army and Navy paintings. Watch the Coast Guard painting unveiling , with introductory comments by Dr. Earl Potter, President, St. Cloud State University, (Coast Guard Captain, Retired).
From La Nazione, Italy
In December 2015, I revisited Stazzema, Italy to donate one of my paintings of the Mississippi River to the Commune di Stazzema. I was greeted warmly by Mayor Maurizio Verona, and Serena Vincenti. I was not to know that the photo taken that day would end up in the Viarregio regional edition of Italy's national newspaper, and was exceptionally honored.
Salon Opening a great success!
In July 2014, I travelled to Stazzema, Italy to honor my former instructor, Madame Nerina Simi, whose impact on my art and life proved invaluable. In that vein, this year's Salon showcased works by former and current students who have studied with me —and whose artistic talent has taken root in their own lives/careers, and in the case of some of the younger students, is just taking off. In partnership with my friends and artists in their own right, Celo V'ec and Carol Christensen, along with the extremely talented students who comprise Subito Chamber Orchestra played for the opening.
Students who displayed works include: Jeffrey Hurinenko, Ann Marie Ethen, Stella Hecht, Jill McIntire, Claire Miller, Matthew Toenies, Chris Welch, and Christina Welch.
"Generations" provided the opportunity to view, learn and support the work of established and emerging artists.
Kapsner's annual salon to highlight importance of 'old school' art
'Generations' exhibit by Kapsner on display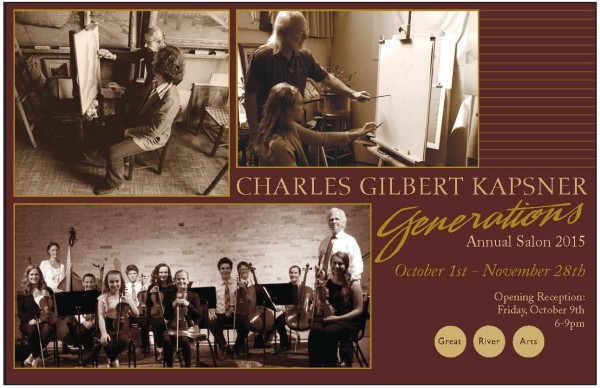 Kapsner article in August 2015 edition of Fine Art Connoisseur magazine
The August 2015 Fine Art Connoisseur magazine features a wondrous tribute to Kapsner's instructor, Signorina Nerina Simi, and captures reflections from last year's celebration in Stazzema, Italy honoring her remarkable legacy with Remembering Signorina Nerina Simi.
Veterans Project featured in the St. Cloud Times
The St. Cloud Times featured the Veterans Educational Historic Monument on its front page Memorial Day marks progress for Little Falls artist as a terrific tribute to the men and women of the U.S. Armed Forces. Please take the time this weekend to honor them at a Memorial Day event near you.
May, 2015: University of Minnesota WineFest No. 20
Charles was this year's featured artist for the University of Minnesota WineFest No. 20 to raise funds to advance innovative pediatric research. The painting he created celebrates the grape harvest in Tuscany and was auctioned as one of the items. He is honored that Carlo Trinchero, Taken Wine Co. Director of The Elite Collection/Taken Wine Co Proprietor at Trinchero Family Estates and featured Winemaster at the event was the lucky bidder. "It is truly an honor that such a young, talented, creative winemaker and entrepreneur bought this painting for such a great cause."
Truth. Beauty. Experience. Emotion. The artists included in Art Journey: Portraits and Figures say they have discovered all of these things and more through their work. Sometimes it's in the eyes. Or perhaps it's the hint of an expression that seems to beckon one closer, begging to share a secret. Maybe it's the tilt of a chin. Or the posture or stance of one's subject. But in a well executed portrait or figure? Something special, something unique that is invariably revealed–oftentimes about both the subject and the artist. Covering a tantalizing range of styles, the works within illustrate the many ways today's best artists choreograph shape, value, line texture and color into compositions that create drama, tell a story and pull the viewer in. Featuring unusual perspectives, enticing contrasts and other dynamic design elements, Art Journey: Portraits and Figures delivers fresh inspiration for artists of every skill level and medium.
Art and inspiration from 109 contemporary artists working in charcoal, pencil, pastel, colored pencil, scratchboard, pen and ink, and more
107 masterful works–the best in portraiture and figure work–demonstrating a wonderful diversity of styles
Expert tips and advice and insights into the stories behind art
Fall, 2014/Ongoing: McManus Gallery "First Fridays" in Raleigh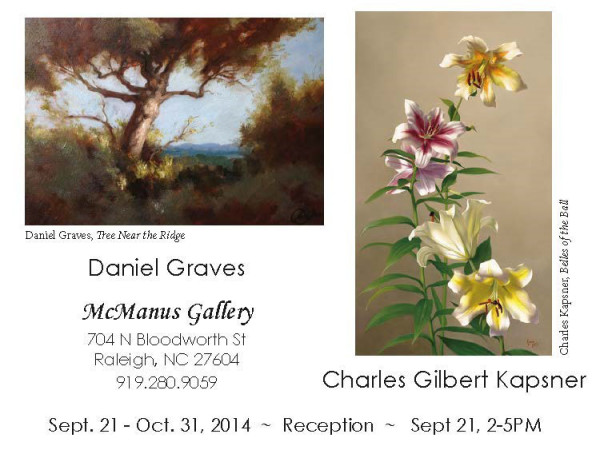 Salon 2014 a Terrific Success!
The 2014 Salon at Great River Arts (GRA) celebrated the Ballet Russes. We look forward to next year's event! click here to see highlights from the opening.
Summer 2014: Return from Italy
In July 2014, Charles was part of a special tribute to his former drawing instructor, Madame Nerina Simi, who was honored in hometown of Stazzema, Italy. Twenty former students from across the world descended on this tranquil community to honor this amazing woman. Sponsored by the COMUNE DI STAZZEMA, Soroptimist International D'Italia Club of Viareggio-Versilia, and Banca Versilia, the event culminated with a show of her former students' art, and the naming of a piazza in her honor. (Download the event poster. pdf)
Master Artist Award 2013-2015
The Five Wings Arts Council selected Little Falls artist Charles Kapsner as its Master Artist for 2013-2015. The Master Artist Program, made possible with funding from the McKnight Foundation, honors artists who live in the five-county area (Cass, Crow Wing, Morrison, Todd and Wadena) and have shown dedication to and skill in their artistic pursuits. Master Artists have also given back to their communities and have defined goals for their future. Kapsner was formally recognized at an event in April, 2014. Visit www.fwac.org for more information. Video of the Event. From the Brainerd Dispatch: Kapsner, master artist of the year, to be recognized at celebration Thursday in Little Falls
Videos and Articles From the Veterans Art Project
Little Falls artist painting 5 works for Minnesota State Veterans Cemetery
The Oddly Wrapped Gift – Brainerd Dispatch March 10, 2013
Little Falls artist's painting for veterans cemetery unites unlikely pair – Star Tribune March 2, 2013
Artist Charles Kapsner's Presentation to the VFW Convention, Reno, Nevada
In Focus Artist Charles Kapsner – Lakeland News at Ten – July 27, 2012
Common Ground Episode 327 – First Air Date April 12, 2012
Common Ground Episode 328 – First Air Date April 19, 2012