Wondrously bereft of modern-day distractions, it was in the studio of Signorina Nerina Simi in Florence, Italy, where Charles Gilbert Kapsner learned to develop his skills in the manner of the Renaissance masters. He is a contemporary painter whose roots are planted in the 15th Century. For him, perfecting the drawing is critical before ever picking up a brush. .Largely a studio painter with a tilt towards still life, he prefers the "Vanitas" style, where the objects depicted symbolize the brevity and vanity of human existence. His repertoire includes florals, portraits, figurative pieces, and dancers.
He has been recognized nationally and internationally, including the 2005 Career Achievement Award from the Florence Biennale. Last year, Kapsner was a finalist in the 13th annual Art Resource Center competition, still life division; first place in the Salmagundi Club new member show; and awarded a Public Service Commendation from the U. S. Coast Guard. He received a silver medal in the Oil Painters of America Salon 2016, and a finalist in the 2016 Portrait Society of America still life division. He is an Artist Member of the Salmagundi Club, Coast Guard Art Program (COGAP); Portrait Society of America; and Oil Painters of America.
No stranger to large-scale commissions, he is currently immersed in the Veterans Education Historic Monument, www.vetsart.org, a series of five 8' X 10' oil paintings for the Minnesota State Veterans Cemetery in Little Falls, MN which depict the stories of the men and women of each of the U.S military branches. He just finished the fourth of five, which will be dedicated Memorial weekend, 2018.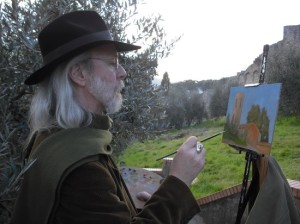 For inquiries please contact cgkapsner@littlefalls.net